If you want into the food business, Then, you can start with fast food, a coffee shop, a food chain, or any one of them. A fast food and restaurant WordPress theme can help make your business more popular. Because currently most businesses are online based. Fast food and restaurant WordPress themes are planned to improve your online attendance and be easily usable for your customers. As a food lover, I can appreciate the significance of showcasing attractive designs along with tempting offers for my own food enjoyment.
These themes are being carefully crafted to make the food business even more popular at present. Among these themes are attractive design templates, home pages, headers, and footers, which you can easily customize. The website that will attract customers to your direction. Let's gather our Fast food & restaurant WordPress theme! enhance the popularity of your online business. These themes will captivate your food-lover audience and assist in smoothly managing all your company's activities.
Pizzan – Fast Food and Restaurant WordPress Theme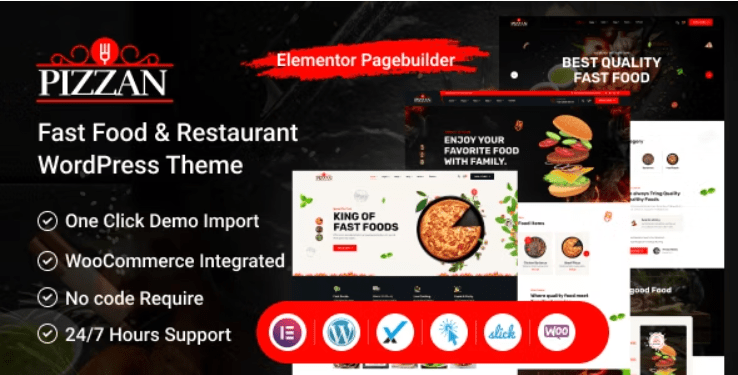 Are you looking for a fast food and restaurant WordPress theme? Your first choice should be the Pizzan theme. The Pizzan WordPress theme is designed in a way that allows the food industry's product menu, coffee shop, and home delivery, service to be presented beautifully. With the help of this theme's plugin, it's easy to create web pages and generate multiple menus as needed. to user-friendly and suitable for a wide range of users.
In addition, the Pizza has a strong control panel that allows you to easily change the design. Using the control panel, you can customize the theme to your liking by changing elements such as the logo, colors, various components, and more. It's a fantastic choice for anyone in the fast food industry. Do you operate a formal dining establishment, a food chain, or any other food-related company The interface is smooth, and the admin package provides seamless knowledge.
Don Peppe – Pizza and Fast Food Theme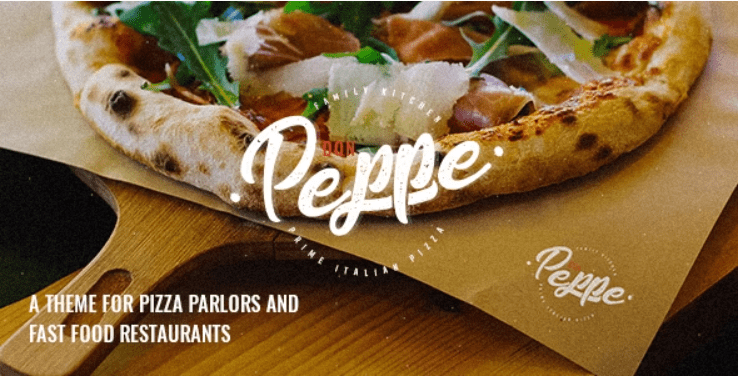 The creators and designers of the Don Peppe theme have done an amazing job. Offering more than 15 smart and versatile templates, it allows you to create both single-page and multi-page websites with various user-friendly internal page designs.
It provides an extensive environment for food enthusiasts, offering a variety of sample websites resembling fast food, burgers, cheeseburgers, muffins, coffee, and much more. This demo content, settings, and data import can assist you in getting started with building your website.
Using a Don Peppe, you can effectively manage your events and exhibitions, promoting your delectable offerings. By starting WooCommerce, make your website more user-friendly, and simplify sales, and home deliveries. Ensure an added level of product customization for customers, allowing them to choose product size, color, and much more.
However, in Don Peppe WordPress themes, there is a slider plugin that enables you to create attractive sliders for your landing pages and header sections. It incorporates modern parallax effects, adding appealing animations as users scroll, and allows you to include video and image sliders with section backgrounds.
Apart from these features, it supports blog post formats, allowing you to present your content in a versatile and organized manner. It includes predefined formats for articles, galleries, images, videos, and much more. Additionally, various options have been incorporated for theme customization. Don Peppe is your versatile and minimal solution to enhance your online presence.
Fast Food WordPress Theme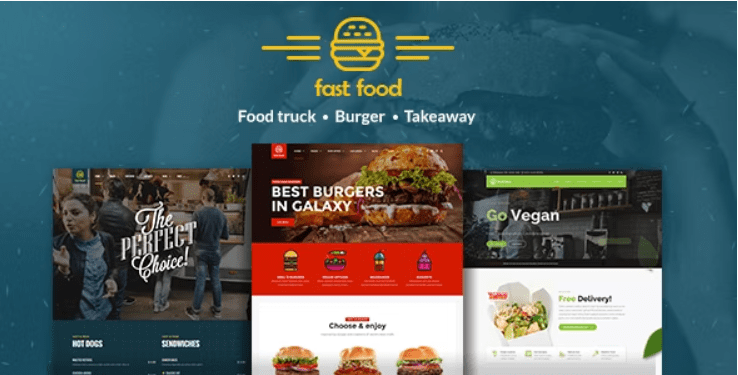 Fast Food is a dedicated theme designed for various food establishments, including fast-food joints, kiosks, family restaurants, butcher chefs, food kits, and chefs. It offers a beautiful layout for showcasing a diversity of menu items such as hamburgers, tacos, hot dogs, sandwiches, milkshakes, burgers, and more. Importing demo content effortlessly allows. you to see stunning website examples with just one click.
Display your top locations in real-time with this fast-food WordPress theme and show gratitude to your customers. Seamlessly integrate the popular online restaurant reservation system OpenTable, allowing customers to book tables directly from your website. Additionally, the Slider Revolution plugin empowers, you to create eye-catching sliders with titles and other sections.
Furthermore, adhering to coding standards similar to Bootstrap, PHP, HTML, and WordPress codex ensures optimal performance and enhanced search engine rankings. It is fully responsive, guaranteeing an excellent presence on both mobile and high-resolution devices. The template's versatility, using a child template, allows for easy customization, making it an ideal choice for your unique needs.
GastroBar – Theme for Fast Food Restaurants and Bars
GostroBar is a customer-attractive WordPress theme with the best layout, meticulously designed for the food business and restaurant. This theme includes a beautiful menu, along with unique extensions for product details
This WordPress theme offers various blog layout options that will assist you in personalizing your style. Additionally, it provides multiple sidebar options, allowing you to choose a complete page layout. This flexibility will help you easily share your content on social media platforms regularly.
Similarly, it seamlessly integrates with popular page builders like Elementor and King Composer. It also supports integration with WooThemes, The Events Calendar, WP Store Locator, and plugins. With these elements, it has surfaced as a fantastic option much like many other themes.
The theme is created using the SASS framework, with Bootstrap and Redux integrated. GostroBar developers can easily enhance their functionality by using custom themes or plugins. When you purchase the theme, you'll receive installation files, documentation files, and tutorials. Using these resources, you can easily edit and set up your website.
Poco – Fast Food Restaurant WordPress Theme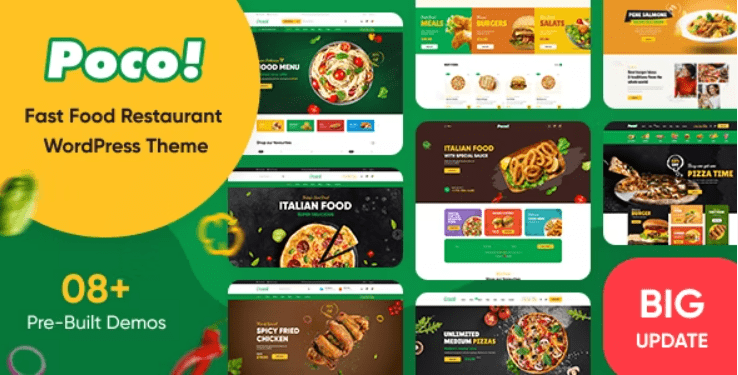 Poco is a fantastic theme for your fast-food restaurant business. You can use this theme as a popular alternative for food websites. Poco always presents your restaurant and recipes to customers in an attractive manner. It allows for in-depth discussion through blogging about a beautiful environment, healthy food, and much more.  Moreover, an online booking system can be set up through the OpenTable plugin.
With WooCommerce, you can efficiently manage your e-commerce store. Along with product uploads, you can set up payment methods, manage inventory, and more for your e-commerce store. You'll also have the capability to engage with customers in real time and add rating options. This theme has been crafted with consideration for server software and hosting requirements. Therefore, you can give this WordPress theme a try. It may quickly yield excellent results for your restaurant business.
Pizzaro – Fast Food & Restaurant WooCommerce Theme
Pizzaro is a creative and exceptional WordPress theme. In this theme, you will find a modern layout for posting your restaurant details, product details, product pricing details, recipe details, and more. This theme allows you to share everyday recipes Easily.
Also, Pizzaro is optimized for fast loading and user-friendliness. Your articles will help be above by search engines. You have complete freedom to customize your icons, use Google Fonts, and customize your theme. And use the newsletter extension. You can effectively grow your email list and connect with your customers.