If you want your business to be successful, creating the right website for your organization is essential. Without considering the type of services your agency offers, competing in the same market, and fighting for the same clients, having a well-designed website is crucial. Choosing the best Creative Agency WordPress Themes for your website is therefore highly important. We are confident that you will find some suitable themes for your project in this collection. If you take the time to explore some demos and scan through the feature lists, you will soon discover a theme that aligns with your requirements.
After importing the demo, making necessary customizations, and adding your own content, you will have a professional WordPress agency website ready to attract potential clients and enhance the profitability of your business. To help you create a robust website for your agency, the theme offers multiple demos, a good set of theme customization options, and importantly, a design that aligns with your vision. If you truly want to personalize your website. You may also want to consider a theme that provides additional creative options, such as one that integrates a page builder plugin like Elementor or WPBakery.
Agenxe – Creative Agency WordPress Theme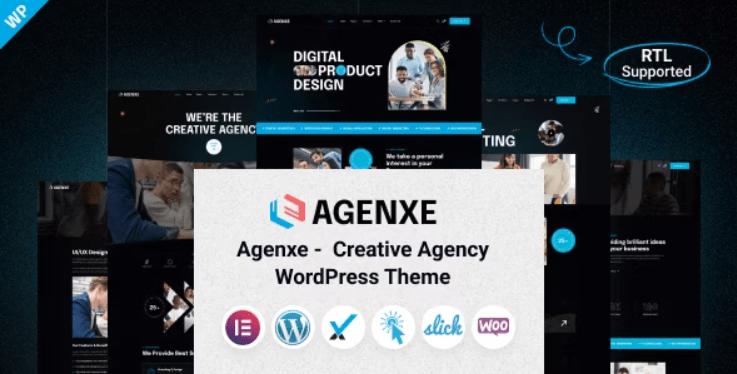 The Agenxe is a versatile WordPress theme, but it truly excels as an agency theme, thanks to its elegance and purpose-built demos included in the package. Agenxe offers over 03 demos to choose from, including a variety that perfectly suits creating websites for different types of agencies. You can choose any demo when installing your WordPress website. It includes capabilities such as displaying full-screen background images and videos, creating animated sliders, showcasing an attractive portfolio for your work, promoting client testimonials, and highlighting customer and client logos—all within a completely responsive and modern design.
The native LayerSlider and Revolution Slider plugins power the sliders. Having access to these two powerful slider plugins means that you can showcase your agency's work in various layouts using animated sliders. Additionally, you have access to the premium  Page Builder plugin, allowing you to customize any page template from the demos or create your own from scratch with ease. Checking out Agenxe agency demos is a good idea because they encapsulate various styles and feature an environment that covers many recent and top web design trends.
Brick – Digital Agency Theme
agencies consider Brick as one of the best versatile and multi-purpose Creative Agency WordPress Themes. Since its launch, it has gained instant popularity, captivating many professionals. It is a beautiful and powerful portfolio theme for WordPress, featuring 10+ unique and remarkable demos. Brick comes bundled with a rich pack of options, providing alternatives tailored to present your work effectively.
Whether it's a designer's portfolio or an architect's blueprint, it is versatile enough for any creative endeavor. Choose from a modern, minimal, or professional application and create a portfolio that suits your objectives and resonates with your audience. This is why Brick has secured its place at the top of our list for the best agency WordPress themes.
Hoshi – Digital Agency Theme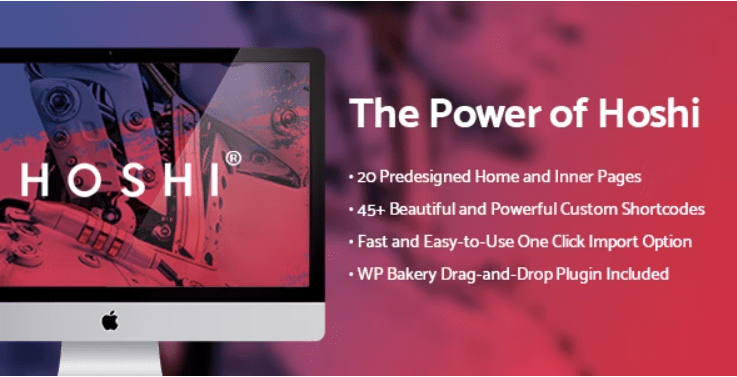 Hoshi is an ideal choice for a dynamic corporate website and personal portfolio. Since it is a theme designed for creating portfolio sites, choosing Wow for your agency website provides you with access to many templates for showcasing your work. In addition, you will find a good environment with various agency demo sites that offer alternatives for design, creativity, and marketing agencies. If you are looking for a theme that gives you ample choices and preferences, Hoshi is worth checking out.
Thanks to Elementor and WPBakery Page Builder for their compatibility. You can use plugins to personalize your Hoshi agency site with a demo that perfectly reflects your personality. However, since we meticulously designed the demos. You won't need to perform any customization work outside of adding your own content to the templates. Hoshi is a highly commendable and creative WordPress theme for agencies. The Hoshi is a very attractive and Creative Agency WordPress Themes for agencies.
Pitch – Digital Agency Theme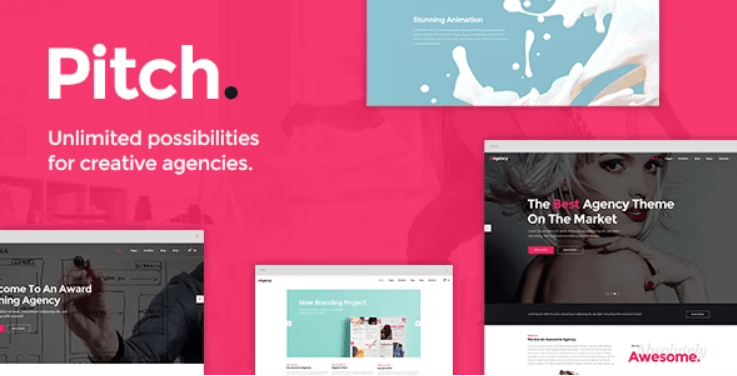 Pitch does an excellent job of making the process of starting an agency website with WordPress easy. One of the aspects through which Pitch stands out is its pre-built website demos, showcased in an attractive library. With a diverse range of project types and a design spectrum covering different web design styles. You'll be able to find a suitable option that aligns with your aesthetic preferences and meets the objectives of your website. The demos feature visually rich layouts that impeccably highlight your work and convey your brand personality.
The Pitch package includes a tool similar to WPBakery Page Builder to create custom web page designs or modify existing templates with ease. Other customization options in Pitch assist experienced website builders in applying more bespoke looks for those who desire a more tailored appearance. For a feature-rich and visually appealing WordPress theme with a powerful focus on creative agency websites. It's hard to beat Pitch.
Orixy – Digital Agency
Orixy will assist you in promoting your agency services in an impressive environment. In the Orixy Creative Agency demo, there is a design that encourages everyone to apply to have large images on their homepage design. Most agency demo homepage templates set up the default layout to showcase expansive, full-width images to attract the attention of your visitors.
When visitors scroll through the rest of your homepage, by default, They will encounter a panel that showcases your main skills or services, breaking down descriptions of your recent projects. The default agency homepage template allows you to display logos of clients you've worked with or awards you've won. Thanks to Orixy and other templates. You'll be able to quickly build the rest of your site with this theme. Orixy is an attractive and best option for creating agency websites.
Axtra – Digital Agency Creative Portfolio Theme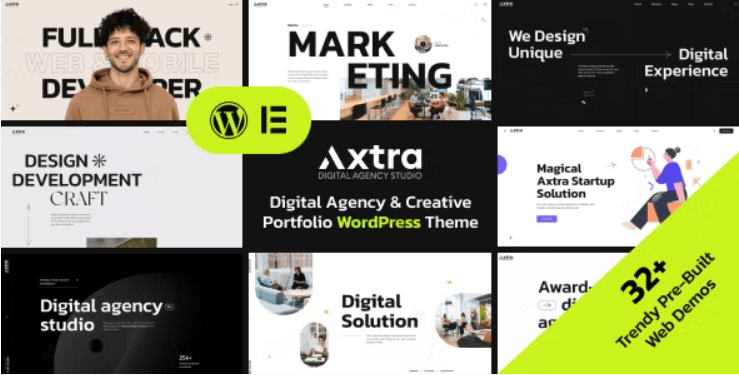 Axtra designs dynamic and visually appealing agency websites for people of all kinds and sizes. To distinguish your website from the competition, Axtra templates make effective use of animation effects. The pages activate loading animations and triggers promptly around their edges. Additionally, a custom mouse cursor is available, contributing to the distinctiveness of your site.
Thanks to the diverse template selection, Axtra is suitable for freelancers and agencies offering their creative services online. If you wish to add a portfolio section to your agency website. Axtra enables you to share descriptions of the projects. You've worked on or created additional creative elements in your spare time.
These demos and templates are compatible with the Elementor page builder plugin. So you can seamlessly customize them to your preferences without much effort. You can easily tailor the global design settings of your site. such as fonts and colors, through the Axtra theme panel, making the customization process straightforward. The extensive library of website demos makes Axtra a theme that stands out for consideration when creating your agency website.