Choosing the right WordPress theme for your plumbing and repair services website is crucial for making a strong online impression, and attracting potential customers. Here, we'll explore five top plumber WordPress themes for 2023 that can enhance your online presence and help establish your plumbing business as a trusted industry leader.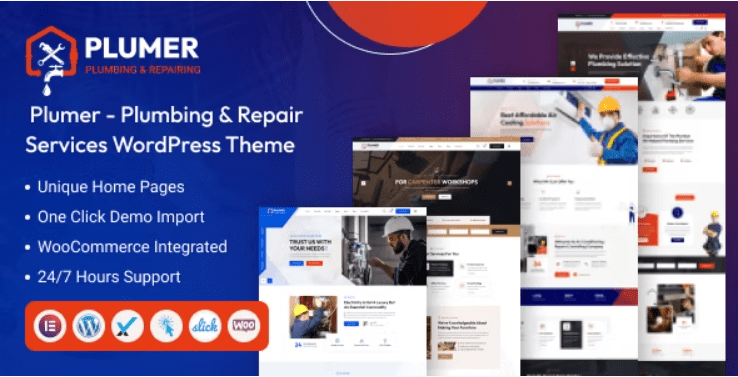 Plumer is a WordPress theme designed specifically for plumbers and plumbing companies. This theme provides an easy way for plumbers to create their own websites without the need for coding. It comes with a pre-designed layout that includes a homepage with contact details and testimonials, specialized pages for different plumbing services, a project gallery, and a customizable contact form for customer inquiries. Plumer is mobile-friendly and SEO-optimized, ensuring that your website works well on all devices and can rank higher in search engine results. It also offers customization options for colors, fonts, and layouts to match your branding.
In summary, these plumber WordPress themes, including Airon and Plumber. We design them to meet the specific needs of plumbing and repair service businesses. They provide professional designs and essential features to help you establish a strong online presence and attract potential customers without the need for complex coding or design skills.
Air Kool – Conditioning HVAC, WordPress Theme
Air Kool is a specialized theme tailored for plumbing, heating, ventilation, and air conditioning (HVAC) services. It features a clean and functional layout designed to present information clearly and concisely. Air Kool's design is user-friendly. This theme has intuitive navigation menus and call-to-action buttons to encourage visitor engagement. The theme includes sections and templates for showcasing various aspects of your business. Such as company information, services, pricing, testimonials, and contact details. It can also incorporate advanced features like appointment scheduling and online payment options, enhancing the user experience and customer engagement.
Kempner – WordPress Theme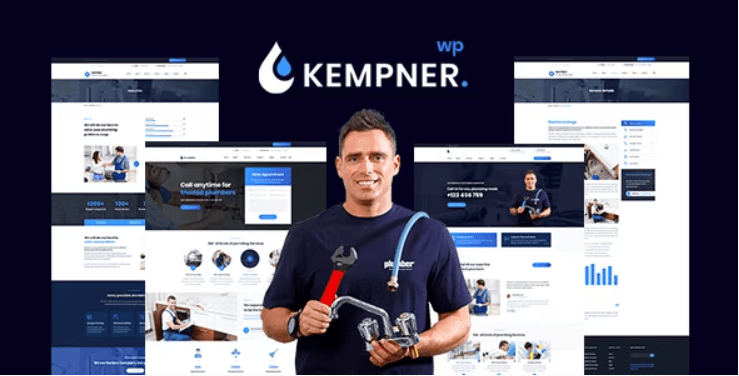 Kempner Plumber, Plumbing Company, and Home Maintenance Responsive WordPress Theme. This plumbing WordPress theme has well-researched.The theme provides multiple unique portfolio designs and optimizes for SEO. This design is meant to help you quickly grow your online business. Inclusive of various homepage designs and is suitable for creating different types of websites. It includes King Composer Pro, a powerful drag-and-drop page builder to professionally design your pages. Overall, This plumbing theme optimizes SEO, boasts portfolio functionality, supports translation, and has thorough documentation.
Plumbing Spl – Plumber Services WordPress Theme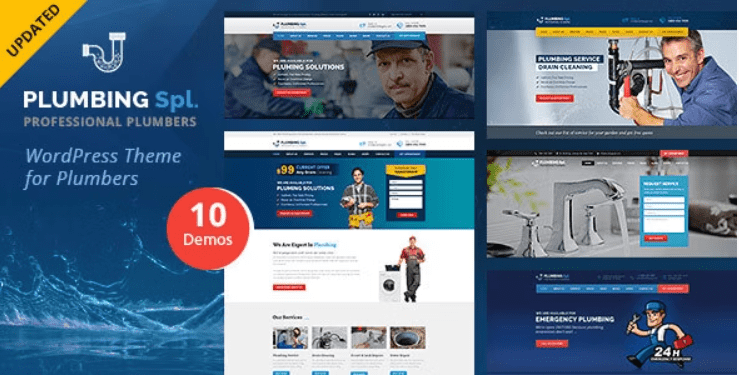 Plumbing Spl is a plumbing and water supply WordPress theme that is fully responsive and efficient. This theme is suitable for creating websites related to plumbing and home security maintenance. This is a highly compatible and visually appealing WordPress page builder that seamlessly integrates with WooCommerce. This modern plumbing WordPress theme features a powerful framework, pre-built pages, one-click installation, and professional support. Also, It comes loaded with three homepage layouts and multiple demo page layouts. Creating and customizing layouts is user-friendly, making It easy to work with a collection of user-friendly designs and elements. Wellspring WordPress theme effortlessly enhances its functionality by supporting revolutionary sliders and premium plugins like Essential Grid. Then, It offers multiple blog layouts that are customizable via the WordPress customizer.
Home Fix-Handyman, Maintenance Services Theme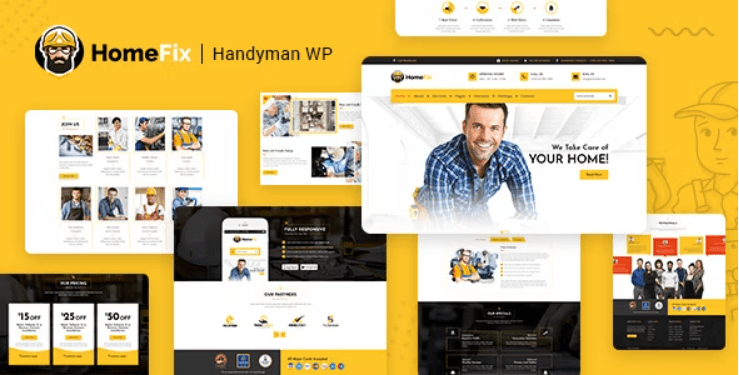 HomeFix is a uniquely designed home security and surveillance WordPress theme. This convenient theme comes with features like an appointment form, a branch locator, an expense estimator, and more. It easily supports setting up your online store and starting. The sale of products related to your home improvement with WooCommerce add-ons. This plumbing WordPress theme comes integrated with multiple premium themes such as Revolution Slider, Layer Slider, and many more. So, You can achieve even more versatility and functionality with this theme. You can create a custom layout with limitless header, footer, and mega menu options. This theme includes multiple shortcode elements, various blog styles, an expense estimator, and a one-click demo installation. Therefore, The theme offers multiple unique portfolio designs and is optimized for SEO.