One of the best themes among the taxi service WordPress themes. You can use it to create a professional website for your business.
These themes are designed for starting a taxi service website. You can choose a WordPress theme that suits your preferences and get started by adding your own images, blog, and more to your website.
All of these Taxi Service WordPress Themes have attractive and professional designs that you can customize to your liking. You will be provided with some control panels to use these themes, allowing you to make them your own.
If you choose this taxi WordPress theme to create a website. It will assist in the growth of your business.
Taxiar – Online Taxi Service WordPress Theme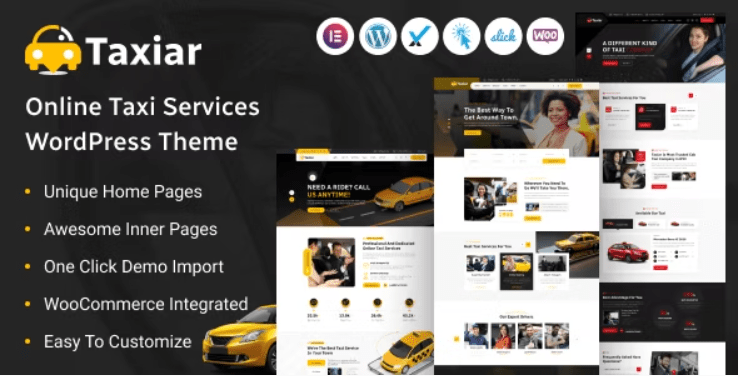 The purpose of creating a taxi business website is to build a Taxi Park WordPress theme.
The Taxiar WordPress theme has a specific goal. The goal of Taxiar is to enhance your online presence. In addition, it aims to increase the value of your business brand and, alongside that, acquire new customers. Everything needed to realize your goals is available. The Taxiar theme offers various homepage layouts that will give your website the right look. Your taxi website has various pages and templates that you can use to beautifully cover your services. For publishing recent news on your site, complete access will be provided through the blog template.
If you have a design preference, starting is very easy. Collect your favorite demos and install your chosen theme. After your website is fully prepared, you can replace your own images before launching. If you wish, you can customize your new website to your liking using the page builder plugin. In addition, your site will have the option to customize the site's appearance, such as colors and fonts, without any hassle.
Currently, modern Taxi Service WordPress Themes allow customers to access websites on their smartphones. Similarly, you can use the Taxiar theme. In addition, the theme has been created to be compatible with various browsers. If you want to promote your business and accept bookings through your website, then the Taxiar theme will be a great choice for you.
SimonTaxi – Taxi Booking WordPress Theme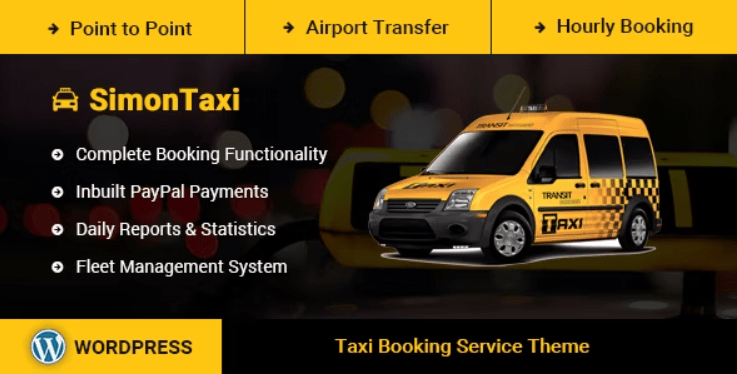 SimonTaxi is a multi-purpose theme with a demo for a taxi company website.
The SimonTaxi website demo includes a perfect homepage that is ideal for your new business The homepage feature is that it can attract your customers through a form. You can customize this form according to your preferences. It also provides space to display other information alongside the locations of different taxis.
Furthermore, on the default homepage, you will find additional sections about your services, a link to download your app, and various information-sharing elements about your company. Since Avada includes its own editor tools, you will be able to edit your website using them.
Avada will help you launch a beautiful taxi company website.