Everyone looks for experienced mechanics to get their cars repaired so that the vehicles can be repaired beautifully. As an experienced mechanic, you can make your business more attractive by creating a website. Fortunately, there are many car service WordPress and maintenance themes available in the market that you can choose according to your preferences. The chosen theme will meet all your requirements. In this guide, keeping in mind the needs of mechanics and business owners, we design themes that will assist you in selecting the right theme for your business. Below, a description of the best theme is provided.
Malen – Car Service & Repair WordPress Theme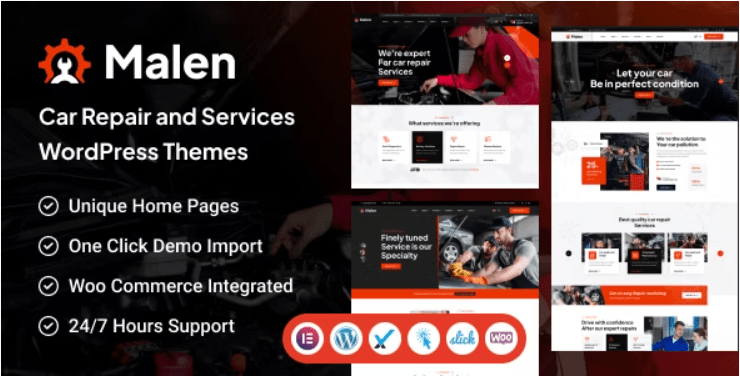 Many people find it costly to take time out for car maintenance due to their busy schedules. On the other hand, some prefer to follow a schedule for their work. Malen understands your time limitations. Malen makes it easier for your customers.
This theme helps you promote your business more effectively. It includes animations, videos, and blogs that you can use for marketing your business. Moreover, it offers 7 different homepage designs to attract customers. You can also sell car parts using this theme because it includes an integrated WooCommerce shop for your online sales.
Finally,malen is a complete theme. It beautifully covers the prices of all car parts, answers all customer inquiries., and also includes a portfolio and a blog, allowing you to showcase your work and keep your customers informed.
If you want to create a website that beautifully covers every aspect of your car service business. Then Malen is the best choice for you.
Autofiix – Car Services WordPress Theme
Everyone wants to get their car serviced by a good mechanic. This WordPress theme, Autofiix, simplifies the process of car maintenance for customers.
Autofiix features a beautiful homepage that allows you to present your services in an attractive way. Additionally, it displays pricing lists in a visually appealing manner, depending on the type of service, and customers can view available appointments on their own using this WordPress theme. The theme also includes the premium WPBakery Page Builder plugin, which you can use for free.
This theme includes various car service WordPress maintenance services, with each page displaying a price list in an organized format. Additionally, Autofiix features profiles for each of its staff members, facilitating customer interaction and providing information about your business.
Therefore, the Autofiix WordPress theme will quickly help you create your website.
Autrics – Car Services and Auto Mechanic WordPress Theme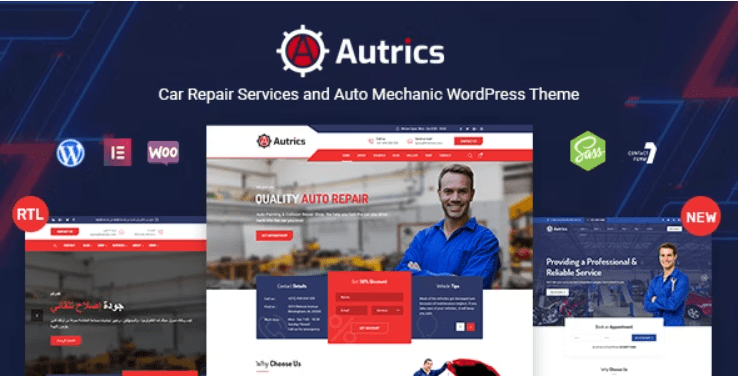 The business of car repair and maintenance has become highly competitive these days. You can create a website that highlights the uniqueness of your business and makes it easy for customers to choose your services.
The home pages of this theme should be designed in a way that beautifully showcases your experience and expertise. Additionally, you'll be provided with free access to many elements that will allow you to bring uniqueness to your pages, enabling you to stand out.
Autrics features a gallery dedicated to car maintenance, where you can beautifully showcase photos of your mechanics' work. In addition, you can create a gallery in a uniform format for each of your services. You can also add an overview of the costs for various repairs, along with a list of your top services. If you want a theme like that, then "Car Service WordPress Themes" is your best choice.
Karzo – Car Service & Washing WordPress Theme
Car maintenance is an additional job for every car owner. "Karzo" is a theme that presents your website beautifully. It informs customers about car inspection services in an attractive manner.
It is designed with a vibrant color blend in the homepage layout. The theme is meticulously designed with complete coherence with a tool that allows you to easily customize your offers.
With Karzo, you can provide concise descriptions of your  service offers. You might prefer this theme because it offers a list of team members' profiles alongside various conveniences. Furthermore, users can download their own marketing tools.
If you are looking for the best theme for car maintenance services, then Karon is the one for you.